If you don't plan on overclocking and you don't mind the look of a stock CPU cooler, it is not absolutely necessary to go out and get an aftermarket CPU cooler. However, CPU coolers really aren't that expensive (especially if you go with an air CPU cooler) and they can give you better cooling and help put the finishing touches on a nice-looking build.
In this guide, we'll take a look at the best CPU coolers for gaming currently on the market. We have looked at ten different air coolers and they are the best we consider in year 2019. We are not saying that no other cooler is better, this is purely our opinion and there might be other coolers which could be better than these we have discussed.
For liquid coolers, the absolute best-case scenario for extreme builders is a custom loop liquid cooling setup. However, these aren't as simple and straightforward as the closed-loop options currently available and are really only items that people looking to do some extreme overclocking, or people who really want to build something aesthetically superior should look into.
And, for the most part, air coolers compete fairly similar to closed-loop liquid coolers, despite costing less. Although, if you're going for a really clean look, perhaps nothing can accomplish that more than a closed-loop liquid cooler.
Ultimately, if you aren't planning on going with a custom liquid cooling setup, but you want something a little more than the cheap stock fan that your CPU will come with, this guide will help you make the best choice for your needs. So stick to this article for all your queries and decide which cooler is best for you!
1. NZXT Kraken X62
Like Corsair, NZXT is also one of the first manufacturers to bring all-in-one liquid coolers to market. The company's original Kraken X40 and X60 were the first to integrate software controlled RGB lighting to the pump head so it's only fitting that NZXT was also the first to introduce addressable RGB lighting with the Kraken X42 and X62. Available for close to two years now, the Kraken X62 has developed a very strong reputation thanks to its chart topping performance and unique aesthetics. The pump head features a nifty infinity-mirror design that really accentuates the addressable RGB lighting while sleeved tubing and sleek fans also help make this cooler stand apart from the crowd. We chose the 280mm X62 because of its balanced performance and price, but the 360mm X72, 240mm X52, 140mm X42 and 120mm M22 are also all great choices using the same beautiful design.
2. CoolerMaster MasterLiquid ML360R RGB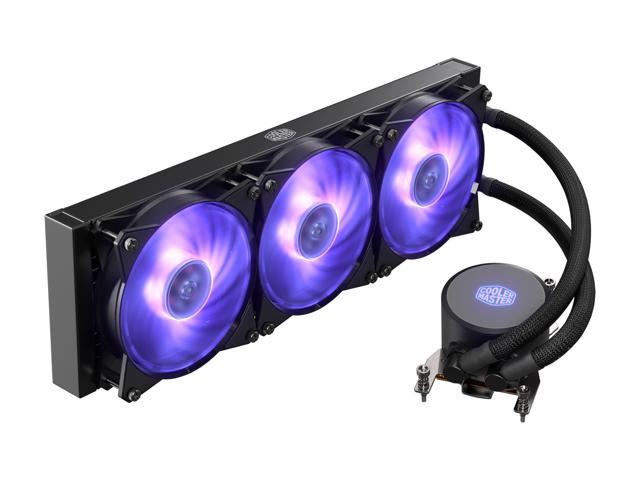 When it comes to keeping overclocked CPU load temperatures in check, Cooler Master's MasterLiquid ML360R RGB is the new chilling champ. As the 360 variant of our previously reviewed MasterLiquid ML240R RGB, the newly available MasterLiquid ML360R adds 33 percent more radiator surface area for even more cooling prowess. The result? It cools even better than the mighty NZXT Kraken X72.
Power users, gamers, PC builders and overclockers in the market for a new, large CPU cooler should take note. The Cooler Master ML360R RGB is our current 360 AIO thermal performance leader. And while $160 isn't exactly cheap, there are plenty of competing products that cost more while delivering less-impressive performance.
3. ALPHACOOL EISBAER 240
AlphaCool has really outdone itself with the Eisbaer 240. This cooler came out on top of our cooling charts, and it's cheap to boot. AlphaCool also keeps things standard with its ¼ inch connectors and refillable loop, adding even more lifespan and potential for upgrading down the road.
In ditching the software for this not-so-closed-loop cooler, AlphaCool has made it so that this capable chiller runs straight from your BIOS. It's not the flashiest of all the chip-chillers, and unfortunately there's no RGB lighting if you are into that sort of thing, but with a nearly all-black design, sleeved fan cables, and a semi-industrial look, this cooler blends in with your rig and gets on with the job at hand.
4. EVGA CLC 280
It's not exactly quiet, but EVGA's CLC 280 combines tried-and-true cooler technology with high-speed PWM fans (which can be controlled via the motherboard or a controller on the cooler) to produce the ultimate-cooling 2x 140mm system. Excellent CPU cooling performance and Exceptional voltage-regulator cooling performance (when top-mounted) are some of the great features of this cooler. PWM fans can be controlled by motherboard or on-board controller which is another great thing and comes in handy. Cons include somewhat noisy and Onboard controller adds to price which is not an ideal thing.
5. CORSAIR H100I PRO RGB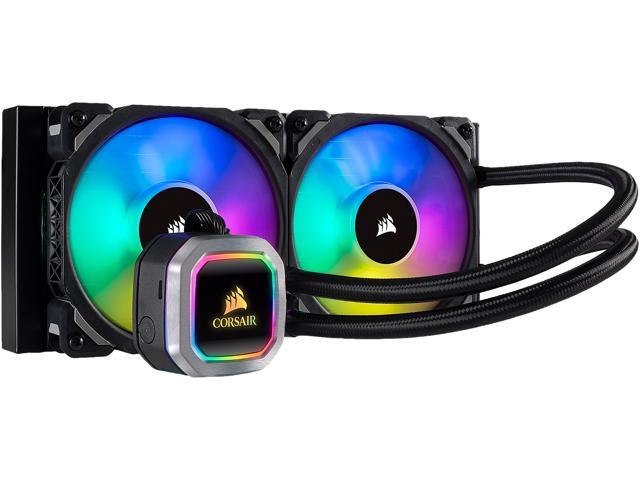 The latest update to the classic Corsair H100i liquid CPU cooler isn't just about that new ring of LED light around the shrunken pump. It's not even about the more svelte design of the radiator either. No, the real boon of the new H100i Pro RGB is the noise it makes… or rather the lack thereof.
Thanks to the super-quiet maglev fans included in the package, and the addition of a Zero RPM mode, the Pro RGB can stay almost entirely silent for much of the time your PC's online. Relying on the flow of water and the passive cooling of the radiator alone the H100i can keep the CPU cool enough not to have to worry the fans until you start to really thrash it. That means in a lot of games, ones that are more GPU and less CPU dependent, you may not hear the fans at all.
6. Corsair H60 (2018)
Corsair was one of the first manufacturers to bring all-in-one liquid cooling to the masses. Nearly a decade after the company first launched its Hydro series, Corsair is once again leading the charge with the updated H60 (2018) as our top choice for liquid cooling on a budget. Priced $20 cheaper than our best high end air cooler, the 120mm H60 offers nearly identical thermal and noise performance at a fraction of the cost. The updated cooler features a white LED illuminated pump head, 120mm radiator and one of Corsair's latest 120mm PWM fans. Our tests put the performance of the new H60 far ahead of its other 120mm competitors and even in line with a few 140mm and 240mm coolers.
7. NZXT Kraken M22
The NZXT Kraken M22 is an incredibly compact, high-performance liquid cooler that delivers sleek styling and vibrant RGB lighting options, while offering support for current AMD and Intel CPU sockets. Specifically, if you're building a small home-theater PC or a compact gaming build, the Kraken M22 offers surprising cooling potential in a condensed cooling package.
Just don't try to strap one to your Threadripper system. The demanding thermals and massive surface of those high-end CPUs aren't supported by this cooler. This is one serious drawback from this cooler which is why this is not recommended if you are running a latest processor. For older generations, this cooler is one hell of a choice.
8. Thermaltake Floe Riing 360
Surface area is extremely important when it comes to heat dissipation. If you have a larger case that can support a 360mm radiator, a handful of manufacturers are now offering these massive all-in-one liquid coolers. Our favorite of the bunch is Thermaltake's Floe Riing 360. While the thermal performance is about the same as some of the smaller 280mm coolers we've tested, the Floe Riing 360 was up to 30 percent quieter. With such a large radiator, you don't need to have fans working so hard to cool things down. The three included fans also feature addressable RGB lighting to match the pump head. With great software controls and expandability for even more lighting, the Floe Riing 360 is the perfect cooler for any RGB enthusiast.
9. THERMALTAKE 240 WATER 3.0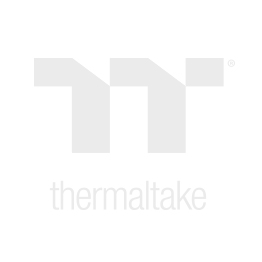 Thermaltake's Water 3.0 is the slightly more budget-friendly version of its Premium Floe Riing 240 cooler. It ditches the RGB pump lighting and the app support, thankfully, but still delivers low-noise performance with a little more flash. The fan controller in the box controls fan lighting profiles, but it also allows for either low-noise mode or normal mode for performance.
At stock speeds, this cooler is more than capable, and as one of the cheapest options it's a great buy for someone that wants a quiet liquid-cooled build. This cooler is capable with some mild clockspeed tuning, but for anything a little more intensive, you might want to look elsewhere.
10. ARCTIC LIQUID FREEZER 240
Arctic is offering the cheapest chiller we've looked at by far. But Arctic is one of the few manufacturers to include enough fans in the box to set up a full push/pull configuration right out of the box. Thanks to these extra fans spinning away in your rig, this cooler offers great cooling potential and value for money, and was almost our pick as the best liquid cooler overall.
With price/performance metrics off the charts, it's really no surprise the Liquid Freezer was a close second for the top spot. No it's far from the prettiest design in the world, and Arctic have ditched all the RGB flair, but in return you get a cooler that gets the job done – with no unnecessary features, and no frustrating software. Kudos, Arctic.
Choosing the right CPU Cooler 
Like most components, choosing the right CPU cooler depends on a number of variables including performance requirements, case compatibility, budget restrictions and aesthetics. In order to find the best CPU coolers for you, we tested all coolers' performance using Prime95 and a mixture of modern PC games for extensive stress testing. Our top selections were made based on thermal performance, noise, value and overall feature sets.
Since CPU cooler is one of the most integral hardware of a PC and should not be underrated in any case, because at the end of the day, if your high end machine starts thermal throttling, your whole performance is going down and sooner or later you are going to regret on your poor choice of cooler.
If you aren't sure whether you need an air cooler or a liquid cooler, it really comes down to budget and compatibility. We'd never recommend a stock cooler to any PC gamer so those on tight budgets should definitely still consider a cheap aftermarket air cooler. If you have a little bit more spending room, liquid coolers can offer a whole lot more—from advanced RGB lighting to intelligent software control. Some of you may be wary about putting liquid near your expensive components, but rest assured all of the coolers recommended in this guide are backed with great warranties that will cover you in the event of a manufacturer failure.
In short, if you are not a hardcore gamer and overclocker, you can opt with an air cooler. If you are an enthusiast overclocker and a gamer with no issues with the budget, well go for a liquid cooler and make your CPU happy.
Read More: