Fallout 76 is the next game in the Fallout universe
After a much anticipated 24-hour live stream on Bethesda's Twitch, they unveiled the next Fallout game called Fallout 76, which actually refers to the vault where it takes place.
Check out the Official teaser trailer from Bethesda above.
Taking a look at the teaser, we can reveal some basic information about the environment of the game and some tiny bit of content related to the protagonist. The reveal trailer includes scenes set inside a relative well-maintained fallout shelter similar to a proper home but covered with metal walls. The vault looks decked out for a party, with balloons and confetti all over. As the camera moves further inside the area we can see a sign that describes, what the confetti and balloons are set up for, "Reclamation Day." A Pip-Boy makes an appearance during the teaser, but there's clearly a lack of weapon of any kind. The entire setting looks extremely domestic, set inside a child's bedroom and a family living space.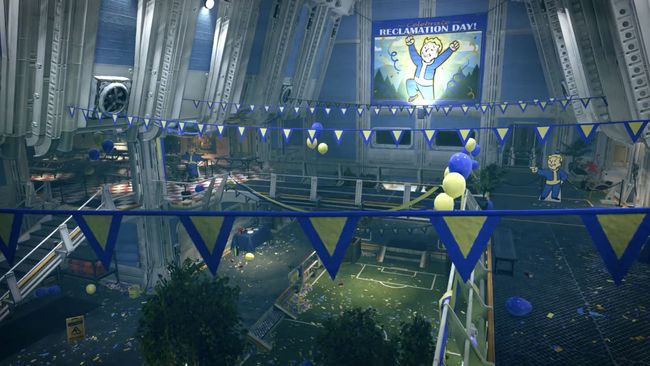 The only character or you can say the "Protagonist" shown in the teaser is a single vault wanderer sporting a blue Vault 76 suit and wearing a Pip-Boy with a date that reads Oct. 27, 2102. A broadcast in the trailer features an official saying, "When the fighting has stopped and the fallout has settled, you must rebuild."
Soon, after the reveal trailer, the Internet blew up with numerous people's thoughts and some of them are turning out the be some points to speculate on. A tweet from Jason Schreirer claims that the game will be a multiplayer title. However, Fallout has been an offline story focused game in the past, but rumors are meant to be not taken seriously, so let's pass on this one.
From what I've heard, Fallout: 76 is an online game of some sort. Developed by BGS in both Maryland and Austin (formerly Battlecry) https://t.co/gUmNYtDXDS

— Jason Schreier (@jasonschreier) May 30, 2018
Moreover, Some well-reputed sites like Kotaku reported that Fallout 76 will be "an online game of some sort." Polygon has also heard the game will feature multiplayer.
Bethesda said Fallout 76 is in development at Bethesda Game Studios on PlayStation 4, Windows PC and Xbox One. Expect to get more information about the new upcoming game at E3 this year.
Stay tuned!